I noticed my blog is coming up a lot on google searches for "Formica 180 FX Antique Mascarello Laminate Countertops" or some variation of those words. And although I decided against it midway through the remodel, because we had to rewire and replumb (is that a word?) the entire kitchen and half the house, we decided to go ahead with it after all.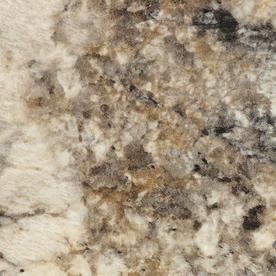 We found a GORGEOUS granite at a local stone yard that we were ready to order, but wanted to check out Blue/Orange in hopes they'll have a cheaper, similar granite. It was then that I found Lowe's finally had samples of the 180FX counters that, up until this point, were non-existant in ANY local big box home improvement stores. All the sales associates were clueless about this "new" product every time I asked, and I was getting frustrated... which led us to picking out granite. The first time I found out about the 180FX counters was at least January/February, and they still had no idea about them in April!

So I was giddy with excitement when I saw the sample book at Lowe's. I took home a pamphlet that you can unfold and see what a good example of the slab of Blue Storm will look like, complete with raised texture similar to the actual samples. This was REALLY cool because it was just your generic glossy paper, but with texture! I had been eyeing the Antique Mascarello online for months, and in person it PERFECTLY matched my paint sample (Valspar Iced Chocolate. The perfect milk chocolate color to go with these counters.). I was floored. Sure it looks fake, and feels like laminate, but I knew it would be significantly cheaper, and do the job in the kitchen for the remaining years we're going to live here. I took a picture of it with my camera phone WITH flash so some of the texture would show up.

The problem was, every time we went to Lowe's there was never anyone in sight in the cabinet area. No one to ever help us, no matter what the hour of the day it was. I finally broke down and called to see if anyone was available, and EUREKA, they were! Not only that, the guy knew what I was talking about AND had an accurate quote. I guess they just needed one more month to get it in and learn about it? Ugh. But for you lucky readers, Formica actually has downloadable PDFs of the counters to use as samples.

This is just for the Richmond area Lowe's, so I can't promise it's the same pricing anywhere else. It's $29.17 a LINEAR foot (compare that to $59 per SQUARE foot for the Brazillian Fantasy Granite). The installation is $195 including a free sink cutout (which you have to pay for at some places) bringing the grand total for our entire kitchen to.... $750 installed. Not bad, considering granite was $2,000 installed. Granted, that's GRANITE, but we're on a budget here, people. And in a starter neighborhood. My dad has been warning me countless times not to overdo it. I just watch enough HGTV (or did, before DTV lost it :( ) to know first time home buyers still expect a luxury kitchen, even in a starter home.
You have to pay $35 for Lowe's to come measure, but it's applied to your installation if you use them. They told us they'd be there at X time to measure, and they were Johnny on the Spot. They said it would take 3 weeks to come, it came in just over 2. They said they'd be at our house to install at 8am. They were there the second the clock struck 8. I couldn't believe my luck.
I took one look and knew it was going to go downhill. It was perfect, except they didn't use my template to cut the hole. Yeah, it ended up being too big, and we had to order a new slab :(
Lowe's came to the rescue, and got us a brand new slab, used our template, and installed it… yep, on the dot at 8am THE NEXT MORNING. Now, I'd like to know why I had to hold up my entire kitchen renovation for almost 3 weeks if they could turn this around in less than 24 hours, but whatever.
The edges are almost invisible in the pattern, unless you're looking hard. Or have your camera on macro focus ;)
The sink is SUPER deep. I could take a bath in this thing. For an overmount, it looks really contemporary, and it's actually fun to wash things in now! It was also so worth the trouble we caused with the counters. It's from Overstock, and it was only about $150.
We got a chrome faucet, and it was just WAY too chrome. We ended up trading this one for a stainless finish to go with the sink better.
It's absolutely gorgeous. I'll be posting more pictures as we wrap up the kitchen. In the mean time, here's a teaser cell phone shot with our Coffee Bar in the corner. The silver bowl holds our K-Cups and the sugar is in the pink glass :)

IN CONCLUSION, with those savings we can replace our stinky, dirty, 20 year old fridge AND buy some dining room chairs. I say deal.